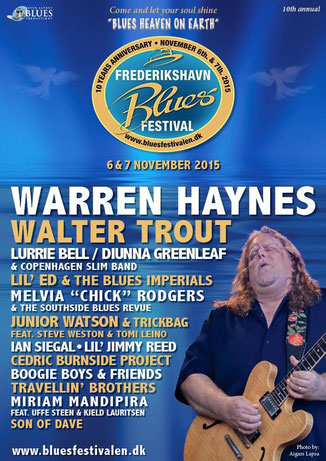 As you probably know we did a couple of gigs with Melvia 'Chick' Rodgers from Memphis, TN in 2009 with Southside Blues Revue. We will  basicly be doing the same show with some extra songs, and a complete horn section!
The Southside band & Southside Horns will be accompanying Chick again on the Frederikshavn Blues Festival on November 7th 2015. 
Our Dutch fans will have the opportunity to catch this show at Bollenblues @ De Zilk, Sundaynight November 8th, showtime 20:00. 
Melvia 'Chick' Rodgers > Vocals 
Robbert Fossen > Vocals, harmonica
Cosmea Panka > Backing vocals
Tamara Spithorst > Backing vocals
Armando Jansen > Guitar
Pim Spetter > Piano
Pascal Lanslots > Hammond B3
Robbert Tuinhof > Tenorsax
Floris Windey > Trumpet
Mark Harmsma > Bass
Ruud Spetter > Drums