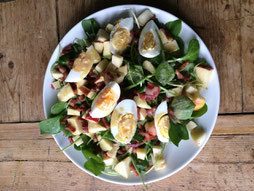 Benodigd: een bos raapsteeltjes, zo vers mogelijk; kaas, spekreepjes, een rode appel en eieren. Voor de dressing: een limoen of citroen, honing of basterdsuiker, mayonaise, olijfolie extra viergine en (honing)mosterd. 
English:
Needed: turntip tops, slices bacon, cheese, a red apple and a couple of eggs. For the dressing: a lemon or lime, honey or brown sugar (your mama was a tentshow queen), mayonaise, olive oil extra viergine and (honey flavoured) mustard.
Dutch:
Bewaar altijd een paar oude jampotjes om snel je dressing te maken. Doe de ingredienten voor een dressing naar eigen inzicht in je potje en schud, maar bewaar een klein beetje om je appelstukjes voor verkleuren te behoeden. Hoe meer limoen/citroen, des te meer zoet ter compensatie (honing  of basterdsuiker). 
Kook een aantal eieren. Bak de spekreepjes uit (voor de bite!, ansjovis kan ook); snijd blokjes kaas, blokjes appel en was de raapstelen. Drapeer de raapsteeltjes op een bord of in een kom, en doe er de blokjes kaas, appel, spekjes en de eieren in kwarten overheen. Lekker de dressing erover doen, eet smakelijk. 
English:
Always save some old jam jars to make your dressing efficiently. Put the ingredients for the dressing together in your jar and shake it babe. Save some lemon/lime juice to prevent the apples from turning brown. The more lemon/lime you use, the more honey or brown sugar to compensate. 
Cook the eggs. Fry the bacon (bacon is for the bite, anchovy is possible as well), cut pieces of cheese and apple and wash the turntip tops. Put the turntip tops on a plate, add bacon, cheese, apple and the eggs in quarters. Put dressing on and go!